One of the best weapons within your Google My Business listing is the business description Google allows you to write. Your business description is a secret path directly into Google's credibility book, as they use your business description to ensure that your business is a real business run by real people. This being said, it's an excellent opportunity to provide those who land on your listing with authentic content explaining what you do. 
That's why we encourage our clients to take advantage of their business description – right up to the last character allowed. Whether you've worked on your business description recently or it's been years (see what a difference a year makes, by the way), here are some suggestions to help make it even better.
Elements of an excellent business description for Google My Business
Make every character count.

You have 750 characters to work with—use as many of them as you can. The more relevant the terms you use within your description are, the more chances people have to identify their needs in your listing.

Think keywords…

If you offer unique services, state them. If you sell specific brands, name them. If you use special techniques to do what you do, list them. If your restaurant specializes in certain dishes, bake those terms in.

…But be natural.

Like anything you write and put anywhere online, be natural and don't come across as if you're a robot repeating the same words over and over. This is a big red flag to Google that may lead to your listing being taken down.

Do not repeat your NAP information.

Your Google My Business listing has a function to direct people to your business. Your Name, Address and Phone Number (NAP) and other contact information are readily available. Even if your address has recently changed, do not waste characters repeating this information in your business description –

besides, there are other ways to update your address

.
No links, no URLs.

Links will not be clickable, so don't waste characters on them. Remember, your URL is up in the "Website" button at the top of your listing and you can plant links in Google Posts as well. No need to put them here.

Not the place to pitch.

No special offers, promotions or pitches. Period. This goes against Google's policies and will likely result in your description not being approved. 
What guidelines does Google recommend?
Google does an excellent job of describing some dos and don'ts of their own. Rather than repeat them here, we'll share a screen capture of their guidelines.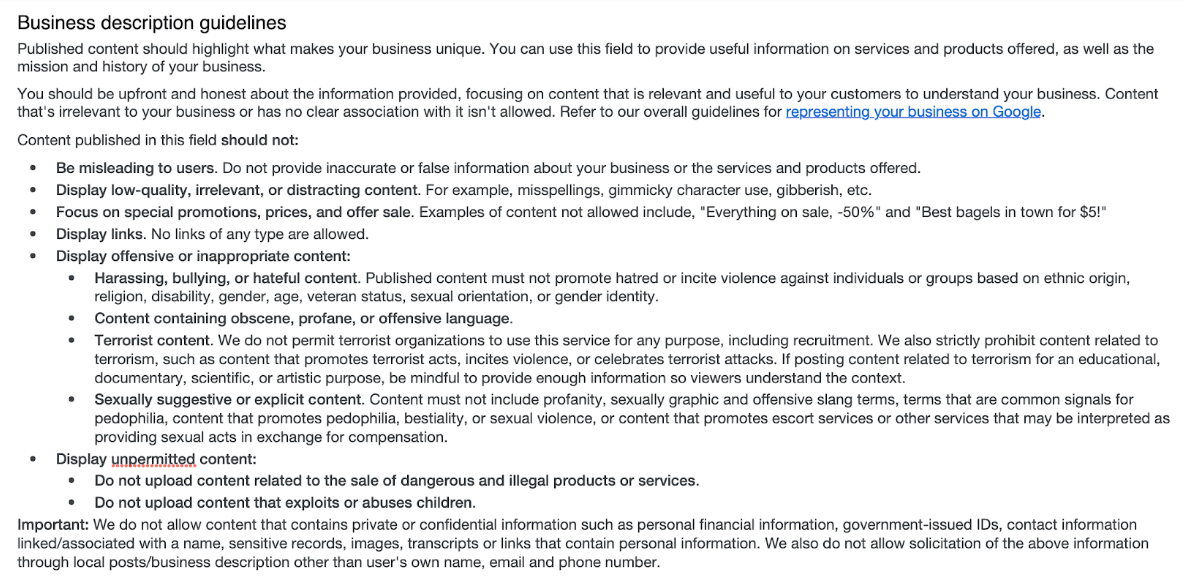 Need help with your business description?
Our clients often ask for help with their business descriptions. When you sign up for one of our plans, we're happy to review your business description and help you dial it in. It's a vital part of your listing and we want to help you get it right. If you're unsure that it represents your business, we're happy to work with you until it does. No questions asked. 
Looking for some more suggestions for how to make your Google My Business listing even better? Check out our post highlighting some more ideas. 
So, how does your business description look? Are you happy with how it describes your business? What are some of the challenges you've had in crafting your business description? We'd love to hear from you in the comments below!