You've probably heard a lot about the importance of SEO for your website, how to use social media to grow your audience and the ROI of email marketing. But what about Local Business Listings?
A local business listing displays your business's information in an online directory – like Google My Business or Yelp. Business information displayed can include your website, phone number, opening hours, location address(es), and more.
Local business listings are essential for helping your potential customers discover you and understand what you offer. The more complete your listing, the more likely those potential customers will come to your shop and buy from you.
Follow these additional tips to leverage local listings and bring in more business:
Start with Google, But Don't Stop There
.
Google is the most-used search engine (with more than 90% of market share), so it makes sense to start by creating your Google My Business listing first. Creating your listing will help you appear in web search results and on Google Maps. In addition, Google Maps is often used on mobile devices by local customers looking for businesses like yours.
But Google isn't the only directory. So it's critical to diversify to as many places as possible. (See our series titled Directories To Grow Your Local Business, part 1 and part 2.) Big sites (Google, Yelp, Facebook, Waze) have their listings, while many small directories pull information from these sites to populate their pages. The more places you can be listed, the better. 
Book a free consultation if you find yourself overwhelmed with setting up and managing multiple local business listings. We can help.
Don't Forget to Verify
.
Once you have your listings set up, don't forget to verify them (i.e., take ownership). To do this, Google will generally require you to receive a postcard to the business location with a code to enter on their platform. Verify your business listing to take control of it so you can:
Add more information and complete your profile;

Share updates (see the point on content below); 

And respond to reviews and questions. 
All of the above get your listing found more easily. And a complete listing helps you share critical business information with your audience.
Take a look at the difference between a fully-optimized listing and an unoptimized one.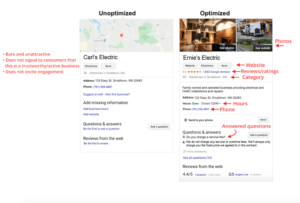 Image source: https://www.wordstream.com/blog/ws/2020/11/02/promote-your-business
Create and Share Content
Posting new content like a blog on your website helps improve your organic search results. In addition, content is a meaningful way to give customers value, which builds relationships and trust with your audience (key to sales). But simply creating content and posting it on your website isn't enough. You need to share it, too!
 Listing directories like Google My Business allow you to share updates, and this is a great space to share and promote your blogs.
Ask For – And Respond To – Customer Reviews
Don't rely on customers giving you reviews – ask for them! The best time to do this is after you complete the sale or service. If it was an online transaction, send an email within a couple of days of the sale (you can automate this). If you're operating an in-person local business, ask your customers to leave reviews as you hand them their purchased items.
Of course, good reviews on your listing show potential clients you're a reliable business. But getting reviews is only half the battle; you have to respond to them as well. 
Responding to good reviews shows Google you're active, which increases your reach. Of course, responding to bad reviews does this as well, but perhaps more importantly, it also shows searchers that you're willing to learn from mistakes and fix them. The point is to increase consumer confidence in your business.
For more pointers on how to take advantage of reviews, read the following posts to:
Using local listing is a smart way to attract potential customers and generate traffic to your local business. Follow these tips to get the most out of your listing. If you're not sure how to get started or if your listings are properly optimized, book a free consultation.