Owner Stories: Marc David, Foilprint in Dollard-des-Ormeaux, Quebec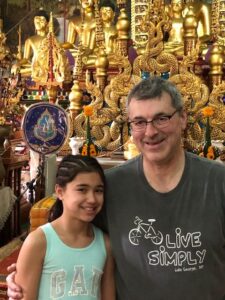 I was introduced to Marc David by Neal Caminksy of Red Dream Studios. Marc is a real good guy who, along with his sister Martine, runs Foilprint, a leader in the process of decorating, imprinting & marking on manufacturer's 3-dimensional parts since 1988. Over the years, as the company has grown, Foilprint has also adapted to the reality of the online market. Today, while the business is still true to its roots, Foilprint has changed in significant ways. 
Our interview with Marc is below. Please be sure to read our Local Business Owner Spotlight series and support local businesses in any way you can during this difficult time. 
Interview with Marc David of Foilprint
10|20 Marketing: I know the story of Foilprint's origins are on your website, but perhaps you can give me a little background about your experience prior to starting the business with your mother. What did you do before that? Where did you go to school? Why printing?
Marc David: I grew up on the West Island. My sister and I were raised by our mother after our father passed away at a young age. Martine was six years old and I was eight. My mother always encouraged my entrepreneurial leanings. Starting at age nine, I delivered the Montreal Gazette every morning, The Montreal Star in the afternoons and the News & Chronicle on Thursdays. I cut grass for six apartment blocks in the summer; in the winter I went door to door in our neighbourhood looking for people that needed their driveways and door steps shovelled. Also sold greeting cards door to door and babysat for several Montreal Expos players that lived in our apartment building complex (by this time I was 12 years old).
I went to John Rennie High School in Pointe Claire and then John Abbott CEPEG. In 1977, I went to university at Gustavus Adolphus College in St. Peter, Minnesota and graduated in 1980 with a BA in business and economics. From there, I moved to Minneapolis, Minnesota until 1985 and survived by painting houses and starting a few businesses that failed. In 1985, I moved back to Montreal after my mother was diagnosed with cancer. While I loved living in Minnesota, I loved my mother more. Upon returning to Montreal, I started a business based on a product that I had seen in Minneapolis. It was a "Call Police" banner that a driver would affix to their rear windshield if they had broken down on the road and needed assistance. The business was moderately successful. I was able to get the banner into Canadian Tire and Woolco for the retail sector, and also sold it to Block Parents (Parents Secours) to be able for them to use it as a fundraising tool.
The banner had run its course by 1987 as cell phones were starting to gain in popularity and people could call for roadside help with their phones. In the Fall of 1987, I saw an advertisement in the Montreal Gazette placed by a company in Denmark that was starting to tour Canada with their new, small, hand operated hot stamping press. I went downtown to see a demonstration of the machine and ended up buying one. We had it set it up in the living room of my mother's apartment, which was a stone's throw away from the old Montreal Forum, and thus Foilprint was established. Our official start date was January 1, 1988.
10|20 Marketing: What a great story! So tell me a little bit about how Foilprint went from startup to where you are today. What were some of your challenges? How did you grow your business? When did you move to your current location in DDO?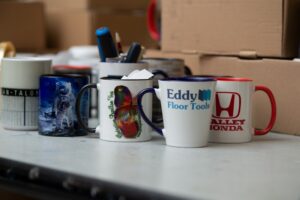 Marc David: After starting off in my mother's apartment in January 1988, I moved Foilprint into a commercial space on Ste-Catherine Street in Sept. 1988. I did this because the second machine I purchased was air operated and required an air compressor that would create too much noise in a residential apartment. First customers were acquired bit by bit by visiting print shops and offering my hot stamping services as a sub-contractor. Growth was slow and steady. Sales revenues in the first year totalled $16,000 and by the end of the third year we broke the $100,000 mark.
My mother passed away due to her illness in 1991. My sister Martine left her managerial job and joined me upon our mother's passing. In 1992, we moved the business into a building at Guy St. and Notre Dame St. that was better suited for manufacturing purposes. Our big break came in 1988 when Martine found a new client that had a very large requirement. Over a three-year period, we printed and packaged over 7 million telecommunications parts. This order prompted a move to our current location in October 2000.
The aforementioned large order allowed us to continue making other equipment purchases which gave us the capacity to acquire new, large clients. That being said, servicing the manufacturing sector has been challenging. Apart from the economic slowdown after 9/11 and the 2009 financial crisis, our biggest challenge has been countering the effects of many manufacturers moving their production needs offshore. To counter this, we have added other product decorating processes to offer a one-stop-shop solution to print onto products. In 2010, we purchased our first UV LED product digital printer. In 2013, we purchased equipment to be able to offer drinkware products that we could sublimate our client's logos and other images. In 2018, we purchased a digital inkjet printer/cutter to be able to offer labels and also to print heat transfers used to decorate apparel products. Our next planned equipment purchase is a direct-to-garment printer (DTG) to expand our apparel decorating department. This department is now our fastest growing segment of the business.
Although we started out as a sub-contract hot stamping company, we now have several different departments within the company that offers a wide range of product decorating processes. The result of this has been a more diversified client base and a reduced dependency on a small handful of very large clients. The irony of Foilprint now is that we no longer offer hot stamping services even though this is a process that launched the business.
10|20 Marketing: This is great stuff, Marc! Can I ask how many people you employ now? And what are your plans for the next several years?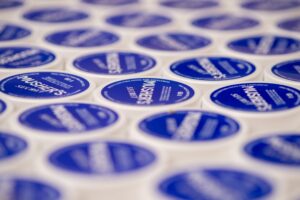 Marc David: Foilprint's staff currently numbers 21 full time and 2 part time. These numbers have held steady for the past few years. The business plan moving forward is to continue to grow our custom decorated apparel and accessories business. An investment into our first DTG printer (direct to garment) is scheduled for this coming summer. DTG printing is the most current apparel decorating technology available.
The plan also includes increasing our capacity to manufacture custom printed labels and using our label printing equipment to offer signage products including posters and window clings.  We currently have three print & cut printers that are very versatile allowing us to offer a wide variety of custom printed products in quantities as low as one unit.
In 2018 we opened our first online store on Etsy offering products based on memes. We have just completed the build out of our second online store using the Shopify platform. This store offers products based on yoga dogs and yoga cats themed products. A third online store will start to be built by late Spring/early Summer on a yet to be determined theme. The versatility of Foilprint's product decorating processes allows us to produce individual personalized products that have increased in popularity and are uniquely suited to online sales.
10|20 Marketing: Thanks so much for taking the time to answer our questions, Marc!
Marc David: My pleasure! Thank you!
**
This is the second in a series of Local Business Owner Spotlight posts. If you're interested in having your business highlighted, please reach out to mark@10-twenty.com. And if you're interested in a free online small business marketing consultation, we're happy to set up a time to discuss your situation as well.