Owner Stories: Kimberlie Robert, The Finer Cookie in Montreal, Quebec
We met Kimberlie Robert of The Finer Cookie at a BNI event in midtown Montreal last summer and we hit it off immediately. Kimberlie is as passionate about her business as a person could possibly be. You can see it in her eyes when she speaks about reaching and delivering special moments to people across North America. Kimberlie just adores packing her little labours of love in beautiful gift boxes and getting feedback from those who are lucky enough to have discovered her jewel of a company.
With Kimberlie in her kitchen in Montreal, we took the opportunity to have an email exchange to discuss what inspires her work and the rush she gets every time an order comes in.
Interview with Kimberlie Robert of The Finer Cookie
10|20 Marketing: Thank you for agreeing to do this with us! So let's jump right in and get some of the more obvious questions out of the way first. When did you launch The Finer Cookie, what were its origins and why cookies?
Kimberlie Robert: I launched The Finer Cookie several years ago with the intention of creating a website that offered hundreds of wonderful cookie recipes, complete with photo tutorials and detailed explanations. I took my time with my explanations, warned of common mistakes in swapping ingredients. I understood the importance of taking beautiful photos that showed the dough's texture and consistency, thought bakers would appreciate it and believed that brands would eat up this kind of content, as photo tutorials provided so many branding opportunities. I truly thought that I could make money by attracting brand sponsorships, advertising and specialty items – and that doing so would be simple. After all, why wouldn't major brands be attracted to a website with beautiful photographs?
The reality is that big brands and advertisers are more interested in traffic than quality. One lucky day a colleague suggested that HE didn't want to bake my cookies, he wanted ME to bake cookies for him to eat! I knew he was right. Cookies were just my thing. I seemed to have a knack for making delicious cookies.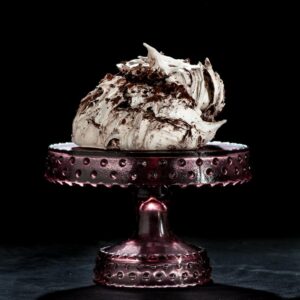 10|20 Marketing: As we get to know one another, your passion for cookies is what really stands out whenever we meet or speak. So while I understand why your recipe-first site became an online cookie specialty store – for lack of a better term – I'll ask you again. Why cookies? And, even more specifically, what is it about cookies that you love so much?
Kimberlie Robert: Why cookies? Because cookies are informal, two or three bites of sweetness. They can be shared, eaten one at a time (without ruining your regime), and made to suit any dietary requirement. Cookies don't require a whole lot of discipline. Cookies by their naturearen't a lot of commitment but satisfy a deep craving.
What's important to understand about Finer Cookies is that they aren't overly sweet or oversized (like, ahem, Costco cookies). Each cookie has its own texture and flavour profile. Yes, sugar is present, but it never will be the first flavour. Chocolate isn't simply a dark brown cookie, but is fragrant and fudgy. Lemon remains lemony. You'll be able to taste the difference between a pecan and a walnut. Eating three Finer Cookies at a time shouldn't affect your blood sugar as an entire Costco cookie might.
Bottom line is that baking cookies become an ideal canvas to explore cravings, riff on tradition, and stretch across international borders.
Taking on the sugar-heavy Costco cookie, I love it! What is it about cookies that seemed like a viable business direction? 
Kimberlie Robert: Oh, that's an easier one! Cookies certainly have mass appeal and ship with relative ease. Because they're baked, they're inert, not perishable, stable and don't get caught in the web of horticultural and agricultural regulations. Weather permitting, they slide across the U.S. border very easily.
10|20 Marketing: Ok so let's shift gears a bit and talk about the business side of things. What do you find are your biggest challenges in reaching new clients? How do you translate your passion for what you do into mass outreach, given that you're selling cookies online?
Kimberlie Robert: Oh, my, there are several answers to this question.
At all times, I deliver the best product possible and the fastest, most responsive customer service that I can. My goal is to generate word-of-mouth. I need my customers to tell other cookie lovers about The Finer Cookie. Case in point, yesterday I spoke to a gentleman who, for the last 10 years, ordered from David Cookies (a well-known online cookie company). He told me that their chocolate chip cookie is his all time favourite. Once I learned this, I packed his box full of every cookie that included a chocolate chip. And I included a free bag of cookies. I want him to love his package and order from us for the next 10 years. I have many stories like this. One customer at a time.
Second, for as much as I want to believe I'm in the cookie business, I'm really in the gift-giving business. Finer Cookies are what friends and family send to each other. So the content across my social media and website focuses on the reasons why we send Finer Cookies. I want to convey my enthusiasm for sending gourmet cookies as a gift into the content on my social media and website. Always luxury and can't-get-anywhere-else.
Third, our packaging also communicates my passion for the cookies we bake and ship. It's the final statement. Or maybe the first statement since the customer initially meets our gourmet cookies at the box. The packaging tells the immediate story and sets the expectation for what they can expect to find inside.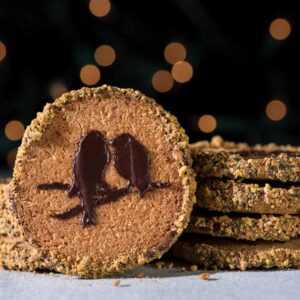 10|20 Marketing: ok, last round! What are some of the things you do outside of work that inspire the work you do with The Finer Cookie? Can you describe the feeling you get when you see a new order come in? When you get that alert or call, how does it make you feel?
Kimberlie Robert: I admit that the line blurs between outside and inside work. I am consumed by my business. I think about it constantly. What inspires my work is seeing and experiencing the inspired work of others. Fantastic one-of-a-kind architecture. Storytelling that shows me a different perspective. Paintings that spotlight a moment that I wouldn't otherwise have noticed.
The feeling when a new order comes in is absolutely wonderful. It shows me that there is a market for what I'm selling. I spoke to a woman this morning who loved everything about my site, everything about my menu selection. She couldn't wait to get her cookies.
I have a project lined up for 410 boxes to be distributed at a conference – a conference about being excellent. A well known restaurant wants to place my gift boxes on their guests' tables for dessert because the chef wanted his customers to experience the same wonderful feeling he got when he received his box through the mail. A major Canadian national company wants to send Finer Cookies to 450 of their employees.
Why all these great things? Because my cookies are wonderful. Working for customers like this – customers who get what I'm doing, justifies everything I know, everything I've learned, and all my skill sets. The circle is complete. It's a feeling of wholeness.
10|20 Marketing: This is great, Kimberlie! Thank you so much for participating. We wish you nothing but the best. 
Kimberlie Robert: Thank you for including me in your series! Best of luck to you!
**
This is the first in a series of Local Business Owner Spotlight posts. If you're interested in having your business highlighted, please reach out to mark@10-twenty.com. And if you're interested in a free online small business marketing consultation, we're happy to set up a time to discuss your situation as well.