Owner Stories: Kim Hannah, Artist, Dollard-des-Ormeaux, Quebec
We're big fans of Kim Hannah and her work. Through her company Ampersand Designs, Kim works with wood in true artistic fashion to make gifts for her clients that have lasting emotional connections. And we should know, as Kim was responsible for reimagining our logo as a sign, literally taking our vision and making it come to life. While Kim does have an impressive roster of corporate clients, she also has a loyal and growing following among those who are looking for gifts for friends and family. Kim runs her business through her home workshop and has maintained a solid and consistent presence on social media to help her promote her work.
We spent a few days going back and forth with Kim via email to discuss her business, her favourite kinds of work and what makes her business tick. Our interview with Kim is below. Let us know your thoughts in the comments below. Also, make sure to read our Local Business Owner Spotlight series and support local businesses in any way you can while these physical distancing restrictions are in place.
Interview with Kim Hannah, Artist
10|20 Marketing

: Hi, Kim! So happy you've agreed to this interview! Can you tell me about Ampersand Designs and how you first became interested in woodworking?
Kim Hannah: Thank you for taking the time to spotlight local businesses, this is a great initiative! Woodworking has always been an interest of mine. I come from a long line of wood workers. My grandfather and his many siblings all did wood carving, and I grew up watching my dad carry on their family tradition.
I started Ampersand Designs almost three years ago when I found myself out of a job. I wanted something that would afford me the flexibility to be home for my kids after school, and that would allow me to do something I love. As a result, I decided the best way to have my own hours was to work for myself. I've always seen myself as being creative, in fact when my children were much smaller I had my own mural business called Off the Wall murals.
The question was how did I turn my passion into a profitable business? After some brainstorming I decided on making hand painted items in wood. I started making a few gift ideas for friends and family and slowly through social media and word of mouth I was able to develop a small following. Since then I have met a lot of great people and expanded my product offering. I am continuously teaching myself new techniques and tools in order to improve and expand my business.
10|20 Marketing

: That's awesome, Kim! Can you describe some of the items you make and which techniques you specialize in?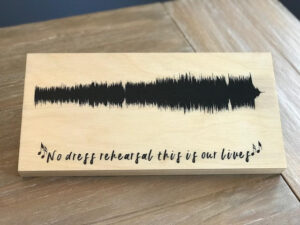 Kim Hannah: All of my work is custom. I decided to take this approach for my business model for two key reasons:
It allows my customers to be able to create a fully customized, personalized item.
It allows me to pour money back into my business instead of it being held up in inventory.
I have been very fortunate to have dealt with many customers over the years and have created over 500 custom items. They range from personalized signs to commemorate the birth of a new baby, decorative trays, family trees, growth charts and more! Last year I invested in a new tool called a scroll saw which has allowed me to expand my offering to now include three-dimensional wood cutouts that are very popular for room decor and company logos.
If I had to choose one item as my specialty I think it would be the scroll saw items. The market of handcrafted wood items is growing each day, and a lot of these small businesses produce very similar items. I am always watching what the competition is doing, and part of my focus is on differentiating myself from the rest.
10|20 Marketing

: Two follow up questions: 1) Would you say that you're primarily in the gift-giving business and 2) how has business been over the last months or so with the lockdown in place? I would think other than the challenge of getting supplies, you should be able to turn out orders. Safe assumption or not?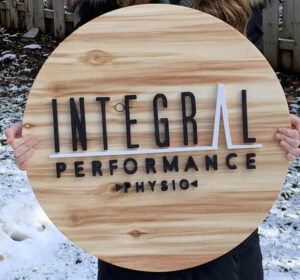 Kim Hannah: Without actually crunching the numbers I would say it's 50% gifts and 50% of people are purchasing for themselves.
At the beginning of COVID I saw a huge drop in business. Which to me was understandable given that many people were becoming unemployed and with the economic uncertainty. As the weeks have progressed, and people have more free time, business has picked up. I am still accepting orders as long as I can obtain the raw materials that I need to complete my work.
10|20 Marketing

: So what's the most creative things you've made? What is your favourite?

Kim Hannah: Wow that's a tough question! I would say everything I make requires at least some degree of creativity, it would be more of which were the most challenging. Logo signs always test my skills because I am trying to replicate a businesses' existing logo.
And any new woodworking project where I have to create the design build from scratch.

The word scrambles really test my creativity because I have to incorporate many words in various fonts and sizes to come up with an overall design that is pleasing to the eye. The sound wave was like nothing I've ever done before so it is one of my favourites, but
I would have to say my all time favourite project was the replica I did of my grandmothers recipe in her actual handwriting. That one hangs in my office. 🥰
10|20 Marketing

: These are amazing, Kim. So well done. Well thanks for all these great answers and pictures and, of course, for doing our logo as well! Any last words?

Kim Hannah: Just a special thank you to you for not only supporting my business this past year, but for taking the time to spotlight it on this platform!
10|20 Marketing: It's our pleasure! And by the way, this is the sign that Kim made for us!
**
This interview is part of our Local Business Owner Spotlight series. If you're interested in having your business highlighted, please reach out to mark@10-twenty.com. And if you're interested in a free online small business marketing consultation, we're happy to set up a time to discuss your situation as well.