Owner Stories: Carolyn Auger, Health and Wellness Entrepreneur, Pointe Claire, Quebec
Carolyn Auger is one of the easiest people to talk to. When we met over a year ago, we just seemed to hit if off and what amazed me most was her ability to listen and add value to our conversation. What spoke to me was her understanding of health issues, especially as they relate to the role of your stomach in maintaining a healthy, balanced feeling of wellness. Steve Blagrave, Carolyn's husband, is also a friend of 10|20 Marketing. As a fitness trainer, Steve fulfills the other half of the healthy living lifestyle and, along with Carolyn, the two make a dynamic duo for those looking to keep well.
Over the last several days we've gone back and forth with Carolyn via email to touch on her business, keeping well during the COVID-19 lockdown and generally staying in good health. Our interview with Carolyn is below. Let us know your thoughts in the comments below. Also, make sure to read our Local Business Owner Spotlight series and support local businesses in any way you can while these physical distancing restrictions are in place.
Interview with Carolyn Auger, Health and Wellness Entrepreneur
10|20 Marketing: Hi, Carolyn, thank you so much for agreeing to do this. We met over a year ago and connecting through our discussion about health and wellness. Can you describe some of your basic beliefs about eating, wellness and how it all connects to feeling good?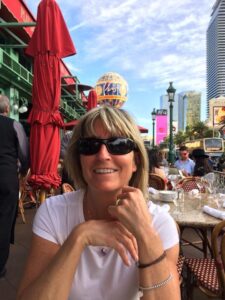 Carolyn Auger: Hi Mark, thank you so much for inviting me. As you learned quickly when we first met, I am passionate about the importance proper nutrition has on overall health. From personal experience and being someone who used to have a poor diet filled with processed and junk food, my health began to decline in my late 20s. When I was told I had and pre-cancerous cells, then diagnosed with many "diseases" including, hypothyroidism, I knew it was time to make changes.
Through proper nutrition, supplements, and exercise, at 55, I have become the healthiest I have ever been. I no longer worry about pre-cancerous cells, my thyroid is under control with a natural supplement, I'm free from the pain and discomfort from both fibromyalgia, and irritable bowel syndrome. With more protein in my diet, I have more energy and don't suffer from the energy lows of hypoglycaemia.
10|20 Marketing

: Wow, that's amazing Carolyn! So in what ways has this affected or changed your career path?

Carolyn Auger: It was so difficult for me to find solutions, often being offered medications. I didn't want to go that route. I took many nutrition courses, and did my own research. I struggled for many years. Now I can help others find solutions because of my experiences. Part of my journey towards wellness, included massage therapy, exercise and nutrition, which offered me a holistic approach to my overall wellness. Although I had graduated from McGill University in Physical Education in 1988, I made a career change in 2006 and became a Registered Massage Therapist. Helping people hands on to relieve stress and pain has been extremely rewarding.

With what is going on in the world today, I feel so grateful that I had made the decision in 2012, to begin my home-based business in Health & Wellness. My different career paths combine all my passions for helping others towards overall wellness, reducing their stress and physical pain, as well as a healthier overall lifestyle. With my home-based business, we offer an amazing nutrition program, very similar to the one my naturopathic doctor had me do many years prior. I have lived through the struggles, with the positive impact of making changes in my nutrition, so I can relate to those who are suffering, and offer hope and solutions.
10|20 Marketing

: So walk me through how your approach with new clients. What's your process?

Carolyn Auger: First and foremost, I make sure that new clients have seen their medical doctor, and don't have any underlying health issues.

It's important that they share their story with me. I need to know what they want, or need help with. For example, I would want to know have they been diagnosed with IBS, (Irritable Bowel Syndrome), have low energy, or want to lose weight. This way we can monitor changes, because ultimately it's not just about weight loss. People need to realize that making changes to a healthier "diet" will lead to weight loss.

To be honest although many people suffer from low energy, gas, or bloating, and may have many other symptoms, their ultimate goal is usually weight loss.

The great thing about the program we offer, is that it's a sustainable way of eating. It's a 30 day commitment to make healthy, mindful changes. We exchange certain foods that may be creating issues. For example, as I experienced, I used to get easily congested, and once I switched from dairy to a non-dairy milk and cheese, those symptoms went away.

It's not about deprivation, but learning to make healthier choices to fuel the body. We incorporate supplements along with healthy, nutritious foods that enhance the body's performance.

Diets don't work. Healthy eating does.
10|20 Marketing

: And when you talk about health, you're talking about overall wellness too. Can you describe the products you work with, including the beauty line?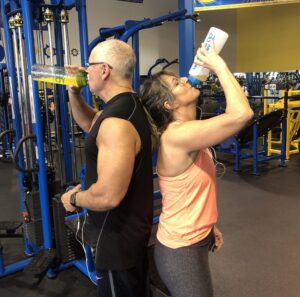 Carolyn Auger: Absolutely Mark. Once I started my business, I quickly learned that what we put on our skin is of the upmost importance to our overall health and wellness. Our mission is to offer people Healthy Living from the inside out. Our skin is the first line of defence, and what goes on our skin, gets absorbed into our body. This is why nicotine, and hormone patches work so well.
The product line is extensive and offers everything needed for every day use from baby products, makeup, hair care, body care and skincare for all types of skin. We have two flagship lines: Nutrition and Healthy Aging. In the nutrition line, the vegan protein shakes are my favourite. My husband and I drink them daily! At 55, you may guess that the "healthy" agin skin care is my other favourite. 😉
The personal care and nutrition products are PETA certified, which means certified cruelty free. This ensures that the products do not contain any animal by-products and are absolutely, NEVER tested on animals. All products are also free of harsh toxic chemicals, some of these include but are not limited to parabens, phthalates, mineral oils, paba, dyes, perfumes, and fragrances. All products are also non-gmo, as well as, free of gluten, dairy, soy, and more. I could list all 2000 toxic ingredients that are banned from the formulations in the entire product line, but you may nod off.
10|20 Marketing

: Any advice for people looking to maintain a healthy lifestyle while stuck at home during the lockdown?

Carolyn Auger: While it is so difficult to be stuck at home, I highly recommend finding healthier versions of foods and treats you may love. Eating too much sugar, processed foods, drinking too much alcohol, will only lead to feeling worse. There is a huge correlation between the gut and brain. So if you are feeding your gut with unhealthy foods and drinks, it will have a negative effect on your brain. How do you want to end this quarantine? Feeling better about yourself or worse? With more confidence or less?

Right now is the perfect time to make some healthy lifestyle changes. Look for healthier recipes and make cooking fun. If you who want some extra help, with 40% off the purchase of our 30-day program nutrition kit, you will receive free coaching, along with a community of people, in a private Facebook group, to keep you accountable and encourage you. It's affordable, simple, easy and will also provide you with healthy recipes, and help you develop habits that will continue well beyond the 30 days. It's not about perfection, but ways to help you make small changes over time. The focus is on healthy lLiving to improve mind, body and skin. Why not give it a try?
10|20 Marketing

: And what about from a physical fitness perspective?

Carolyn Auger: It's so important to be active and move your body. Physical activity is extremely important for the immune system, mind health, and your body. We were made to move. Please don't be afraid to be outside in the fresh air. Of course, while being extremely mindful of social distancing. However, in addition to walking or jogging, you can also make yourself a routine at home. There are so many video options to choose from. Simple exercises, like sit-ups, squats, pushups, stretches, will all help keep your muscles active, and your body feeling better. Mark, you felt the benefits and enjoyed the workouts my hubby, Steve made for you, right? This was well before we were quarantined, and they were all in the comfort of your own home. Here's a question for you Mark, are you still doing them?
10|20 Marketing

: Now you're putting me on the spot! Short answer: no, I haven't been. Longer answer: no, I haven't been but should and want to. Perhaps being publicly shamed will get me back on track! I want to take this time to thank you for answering our questions, Carolyn. You've been a great sport. Any last comments you'd like to make?

Carolyn Auger: Thank you for being a good sport too Mark! So I guess we will have to keep you accountable. I'll get Steve on that. I guess I could mention that if anyone is interested in my full story,  I self-published a book, With All My Heart, under a pseudonym Elizabeth McClennan.
Thanks for the opportunity to share my experiences. I am here for those in need, and wish everyone health and joy, along with the motivation and inspiration to make small changes towards a healthier lifestyle.

**

This interview is part of our Local Business Owner Spotlight series. If you're interested in having your business highlighted, please reach out to mark@10-twenty.com. And if you're interested in a free online small business marketing consultation, we're happy to set up a time to discuss your situation as well.