Local Business Owner Spotlight, Alexandre Rivard, OM Bien-Être | Wellness, Pointe-Claire, Quebec
We met Alexandre Rivard last summer at his quaint store OM Bien-Être | Wellness in the Pointe Claire Village. In the words of their website, the store "features over 200 different crystals, artisanal jewelry, eco-friendly products, smudging and aromatherapy accessories." They also host community workshops. The success of OM Bien-Être|Wellness, both at their retail location and online, has prompted expansion to a location in Sainte-Anne-de-Bellevue due to open once the physical distancing restrictions are lifted.
Our interview with Alexandre is below. And please make sure to read our Local Business Owner Spotlight series and support local businesses in any way you can while these restrictions are in place.
Interview with Alexandre Rivard of OM Bien-Être | Wellness
10|20 Marketing: Hi, Alex! Thank you so much for agreeing to be in our series. It's greatly appreciated! Let's jump in. So your field is unique and your store in the Pointe Claire Village is a gem! Can you explain how you got into the business and why you choose wellness as your livelihood?
Alexandre Rivard: Hi Mark, it is a pleasure for me to be a part of this series. First of all, as a kid and even in my young adult age, I was always picking up rocks from the ground. I was fascinated about their colour and texture. Later on, crystals came into my life and I was starting to get interested in their energetic healing properties and stories. I was starting on the path of healing and decided to launch a company that offers energetic bracelets. It was important, at that point, to bring wellness and spirituality into other people's life as I was incorporating it in mine. Then, two years after that, my partner Jason and I opened a store called OM Bracelets and, nine months after that, we launched OM Bien-Être | Wellness. At OM, you can find over 200 different type of crystals, meditation and spiritual tools as well as eco-friendly and aromatherapy products.
10|20 Marketing: That's so interesting, Alex! Can you tell us a little bit more about OM Bracelets? Where was the store? What were your challenges? Why did you decide to expand on the concept and build that into OM Bien-Etre | Wellness?
Alexandre Rivard: I was helping someone start their business in energetic jewelry and I decided to start my own brand as a hobby. The branding was different, at that time, from all the other ones we saw on the market. We included a properties tag with every bracelet, had a name for each one and the material used. Then, we opened the OM Bracelets store where we had our bracelets on a wall, crystals and spiritual tools in a 150 square foot space, hidden in the back of Lakeshore Road, in Pointe-Claire Village.
The main challenge, was to get people in, be talked about and have more sales. It picked up fast, we worked seven days a week to make it happen. Then a few months later, we started the develop the concept for the OM Bien-Être | Wellness store. We moved to Cartier Avenue to a bigger space. We wanted to have the biggest selection of crystals that a store can have, and more product categories. We needed more space, more products, more inventory and more visibility. The opportunity was there, so we jumped in! And now, Ste-Anne-de-Bellevue is coming to life!
10|20 Marketing: Amazing! What kind of timeline are we talking about here in terms of moving from the first store on Lakeshore to the location on Cartier? Also, how are you drawing people in?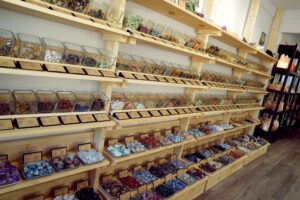 We opened the small "test" shop in September 2018, then did the renovation on Cartier and opened June 1, 2019. At the beginning, we had a following of maybe 2000 people on Facebook, word of mouth helped a lot, and online marketing. We also have sandwich boards to catch attention. We run contests, marketing and promotions. We also offer a loyalty program for our recurring clients. Our presence online is growing as well, as we post at least once a day a day on Facebook and Instagram. We also have new clients every day. We receive new products every week. Now, we are working on our online shop, since we have more time because of COVID-19.
10|20 Marketing: Very interesting. Let's talk about the impact that COVID-19 has had on your business, if you don't mind. Do you feel that because you sell wellness, you'll be in a better position than other retailers? How quickly do you think you'll be operational online? Do you expect your online sales to be as good as your retail sales?
Alexandre Rivard: Yes, the COVID-19, what a big thing for 2020. We try not to feel depressed about that, but it stopped a lot of things on our side. For me, it teaches me that we are still alive and we can change some habits to get over that. I am pretty sure that things will be different after. For OM Bien-Être, Jason (my partner) and I, it showed us that people can shop online for our products if they can't come to the store. It really gave us the opportunity to add products that are different then our OM Bracelets brand. Fun fact, we sold maybe 10% of bracelets and 90% products that are now online. We needed to really go for it! It brings us visibility, sales and it help us to survive! We are almost done online, maybe adding 100 new products. Now, comes the suppliers challenge, most of them don't deliver to business at the moment, because they think we are closed.
Are we in a better position? Probably! We are still losing contracts with airports and point of sales, at the moment, for bracelet sales, which is a huge part of our revenue. We hope to sale 50% online of what we use to do in the past months. We still have to pay rent, the new store renovation, and all other expanses. I don't expect doing as much sales then when the store is open because some people will buy more when they can touch, some others don't feel safe or confident enough to buy online. Also, it is hard to sell more online then what you can sell in person. You take time, one on one, with a client to really understand the need.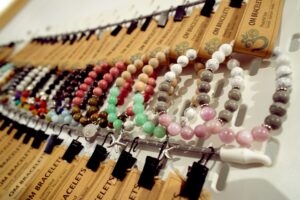 10|20 Marketing: So what are some of the ideas you have to market your online store? So many companies have started online and moved to a physical location. You might have to go from physical to online and then physical again. How do you think you can maximize your exposure online and then re-generate interest in your stores once you're able to re-open?
For the online store, we added our biggest sellers, and we're slowly adding more products. We try to make it simple for people. We offer free shipping over 75$ before taxes and also promotions. We've also doubled the number of points that our clients get when they shop online now from the total they would get when they're shopping at our retail location. At the moment, we are doing online only, but our goal is to re-open as fast as we can. People are missing coming to the store and we miss them too! The time away is also giving us an opportunity to renovate our Pointe-Claire location to showcase more products. I think, with the online store, we will build a new clientele that will not be willing to drive to the store in the future. But our regular clientele like to touch and feel the crystals. They also like to chat with us.
10|20 Marketing: This has been great Alex, thank you for agreeing to participate! Are there any last comments you'd like to make?
Alexandre Rivard: I would like, first of all, to thank you for your time and passion. This went so fast, I miss the questions already. : )
••
This interview is part of our Local Business Owner Spotlight series. If you're interested in having your business highlighted, please reach out to mark@10-twenty.com. And if you're interested in a free online small business marketing consultation, we're happy to set up a time to discuss your situation as well.