Small business owners will often confide in us that they don't have a website. They'll tell us that they have a Facebook page, but no website, and they may even feel embarrassed that they're not properly set up with one. 
We're here to say, it's alright! In fact, there's no better time than right now to not have a website if you're a small business. 
Reasons Why Small Businesses Might Not Have A Website
In our discussions with small business owners, we've run across the following reasons for why they don't have a proper website set up for their business. The list is wide-reaching:
No budget to build one.

Have signed a contract with a developer but don't have time to create content and never got started.

Lack the skills to create a website and don't trust outside suppliers.

Worried about maintaining the website after it goes live. 

Feel they're doing just fine with Facebook or Instagram

They're not an e-commerce business so they feel they don't need a website. 

Think nobody would find them or visit their website. 

Believe they're already so far behind the eight ball that there's no point in having one now. 
These are backed up by statistics as well, as we've read that "Small businesses cite cost (26%), irrelevance to industry (27%), and social media (21%) as key reasons behind their decision not to have a website". And while the same article states that at least a third of small businesses don't have a website, we have reason to believe that even fewer Canadian small businesses have a website. 
Whatever the reason, these are all valid concerns for not having a website. But not having a website doesn't mean these businesses shouldn't be online. 
Let us explain further.
Google Is All-In On No-Click Search Results
What is a no-click (or zero-click) search result? Ever try to book a flight? A hotel? Make dinner reservations? Have you noticed that, now more than ever, you can get all of this done within the first page of Google's search results? Welcome to the era of no-click search results. While you may never have heard how these results are described, we're pretty sure you're familiar with the concept.  
Just so we're all on the same page,  a No-Click Search Result, as defined by BXB Media, are "when the search engine results pages (SERP) provide an answer to the user's query within the search results, negating the need for a user to click through to the actual website."
Here are some examples: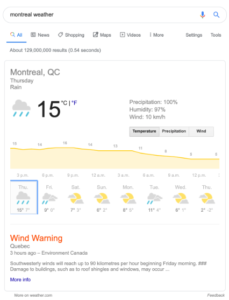 Search for the weather in your neighbourhood and you never need to click through to Environment Canada or The Weather Network.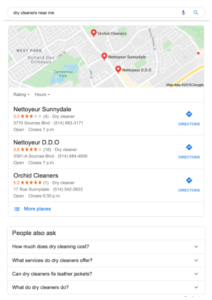 Search for "dry cleaners near me" and you get results from your neighbourhood and other related questions. 
The idea is to provide the user with all the information needed so they do not click away from the search engine results page. Essentially, Google wants you to stay on their property longer, so they're attempting to ensure that the visitor has no reason to leave. '
For the local small business owner with no website, though, the no-click search can be an asset if they're properly aligned with Google. 
How Can Small Businesses With No Website Set Up For No-Click Searches?
Without a website, the goal now becomes to own as much real estate on the search engine result page as possible. And what's the biggest available spot on that page? The empty right hand side. Or, for the savvy business owner, their listing. And, more precisely, their Google My Business listing. 
Look how much space our client Maison Goldberg Bijouterie takes up on the first page of Google's search results.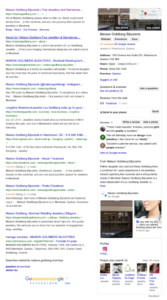 The whole right side of the page is dedicated to their business, making it an unmistakable destination for those looking for the jeweller – or for a jewellery provider in Montreal. 
In addition, because they're properly optimizing their listing, adding content, reviews, and questions and answers, the listing becomes a de facto website for the business. If all they needed were phone calls or visits to their location, you could argue that this would be everything they need to drive new leads and customers to their business. 
In addition, this client has been working on getting reviews for their listing. These reviews are a key component of getting new customers to believe in your business and choose to visit your location. The more positive your reviews, the more likely you are to close new business. 
All these elements combined make up the best, most useful parts of a website for many small businesses: contact information, testimonials, photos, social posts and FAQs. The more you update your listing, the more people you can attract to your listing and have call you or visit. 
A Final Word on Websites
Now, don't get us wrong, we're not saying that you shouldn't have a website. There are obvious reasons why this is important. If you do have one, this makes your listings even more powerful as you can link to your website from the listing, giving people a destination when they discover your business. However, if a small business doesn't have a website, then they absolutely should claim and optimize their local listings, particularly on Google, because this is the best way to be discovered – website or not. 
The key, though, is to start thinking about being ready for those no-click searches, which means you should be giving web users the chance to know as much as possible about your business on the first page of Google's results.  
To learn more about how we help small businesses optimize their business locations and be set up for the no-click search, check out our pricing page and let's set up a discussion.