Small business owners often ask us a very smart question: If Google has the highest search market share, why do we need to claim our listing on other search engines, directories, review sites, and social networks? After all, their reasoning goes, all roads pretty well lead through Google.
While the question is certainly valid, I'd be willing to bet that Google's market share in Canada isn't quite as high as you'd think. And, even so, your Google listing benefits when you also claim your business location elsewhere.
Reason #1
First, have a look at the numbers.
In Canada, search engine market share as of April 2017 looks like this: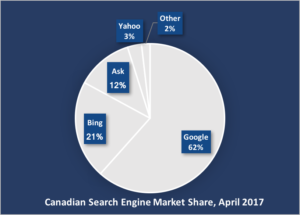 Google's 62% certainly leads, but is it as high as you thought? We've heard people say with certainty that it was over 90%. So, who owns the other other 38%? Well, mostly Bing, as 21% of all searches in Canada are conducted on Bing's engines. That's significant! In the U.S., Google's combined market share – including desktop and mobile – is just under 86%, followed by Yahoo and Bing, each with about 6.5%.
So, the first answer to our clients' question is: Google's share of the search market isn't quite as big as you would think. As a result, there is still significant business to be driven to your location from other search engines.
Reason #2
Secondly, the consistency of listings across different networks is also crucial to the SEO of your listing on Google. When Google creates a listing on a company's behalf before it's claimed, they aggregate information from other directories. Once a merchant claims its listing, Google will continue to validate it against on other directories.
As a result, the consistency of your listing on other websites still influences Google's view of your business. So it's vital to provide different directories with the same exact information initially and every time you make a change. This will have an impact on the SEO for the listing itself on Google, where three out of every five searches by Canadians are taking place. Simply put, the more accurate the listing, the higher it will be presented to an online searcher.
Once you have your listings up and running, wait to see how many more views you'll get and keep optimizing.
Three Takeaways
Google's search market share isn't nearly as high as you would think.
Google validates your listing against the information you provide to other engines.
Make sure that your listing is consistently posted across multiple engines and review sites.