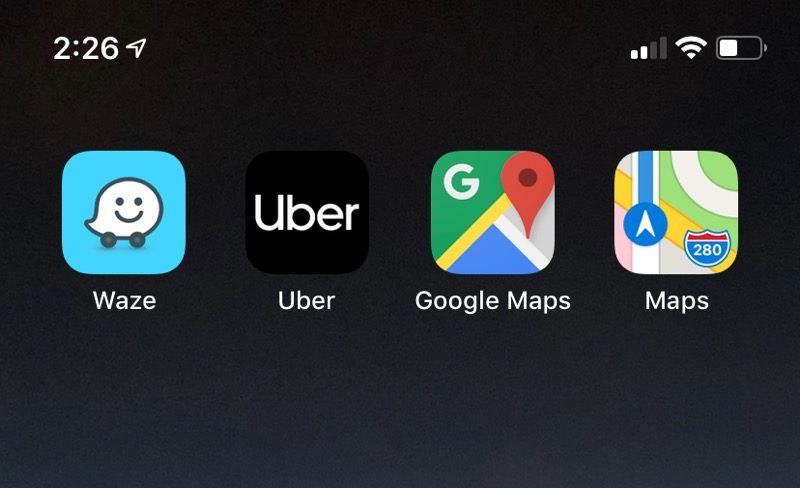 10|20 Marketing is proud to now offer three big additions to our Core 15 plan – Waze, Uber and Navmii. While existing clients will be migrated over to our new package, all new clients will benefit from these three tremendous additions to our lineup. With the availability of these three networks, we're able to help you reach more people with the most important apps and directories. Because we're committed to ensuring that your business location gets in front of as many people as possible.
With this in mind, let's take a quick peek at each of these networks.
Why Waze Is So Important For Small Business Owners
Waze is a free turn-by-turn navigation tool that allows its users to contribute traffic reports and report on delays, speed traps, police presence, cams and more. It's a GPS tool with user-generated input that has 110 million monthly users in 185 different countries. Waze users spend an average of 438 minutes (7.3 hours) per month in the app, turning to it for their commutes, grocery store runs and other daily chores. This is exactly the audience you want to be in front of every day. In addition, Waze is the second most popular navigation app, right after Google Maps. Adding Waze to your web presence is a powerful addition that increases your coverage on important navigation networks.  
Why Uber Is So Important For Small Business Owners
There's nothing worse than getting a ride and being taken to the wrong destination, particularly if you're paying for that ride. It's a problem we've helped clients solve over and over again. Being listed with Uber helps solve this problem and gives your customers confidence that they'll get to you. Why is this service so essential to your business? Consider these numbers: 
93 million people are actively using Uber

There are 3.9 active Uber drivers

An average of 17 million Uber trips are taken every day

Uber service is available in 700 cities in 65 countries

The service represents about 70% of all U.S. hailing business. 
Uber is a key addition for our clients that we're proud to offer. 
What Is Navmii?
Navmii is a few things. For one, it's a completely free, voice-guided, turn-by-turn offline navigation app. It leverages crowd-sourced data from over 850,000 contributors. It also is a decade-old mapping and navigation service that provides Google with unique data, primarily about location. 
The system uses crowdsourcing and AI technology to build both traditional map data for navigation systems and HD map data for autonomous cars. Their website goes on to explain: 
The focus of the company is the development of data and tools that enable companies to collect and create map data at a fraction of the cost of traditional mapping companies. Navmii is available in 197 countries and its eOSM map data is available in North America, Western Europe and other key countries. Navmii has already collected over 2 billion miles of data via crowdsourcing, which it uses to create its own map data set.
Getting listed with Navmii puts your business in front of more users, period.
How Our Clients Benefit
We've always considered our Core 15 package to include a "Big 5": Google My Business, which puts your listing on Google Search and Google Maps, Facebook, Apple Maps, Bing and FourSquare. Today, with the addition of Waze and Uber, we can now confidently say we offer a Super Seven. Your location will gain more coverage on better directories and become even more findable online. 
To learn more about our service and our Local Listings Management packages, book an appointment to speak with us today!