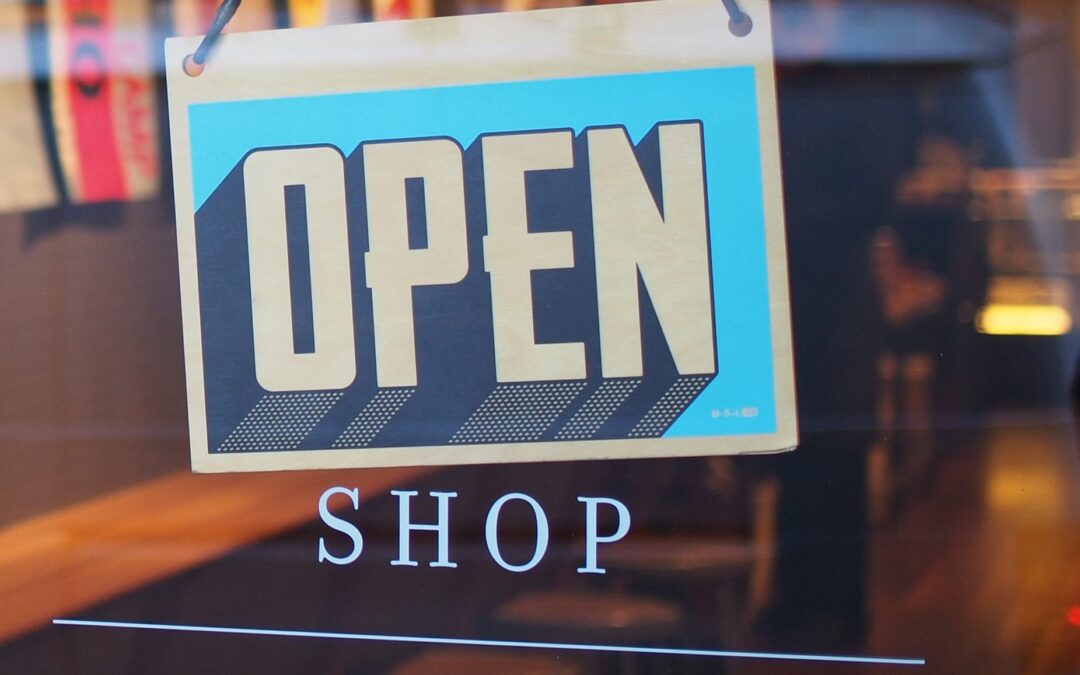 Calling all small business owners, particularly those with retail locations.
Our world has changed significantly over the last two months. With lockdowns in place, people have been stuck at home and/or afraid to venture out. With that in mind, getting food, clothes and other household items — essential or not — has often come down to an online order.
But what if you're a small business owner who has a retail location that isn't open right now? Or, even more importantly, what if your store is about to open but you expect traffic to be slow once restrictions are lifted? If this sounds like you, it's time to ensure that you have a solid online foundation in place so you'll be good and ready to service your clients. And some of this may require some flexibility on your part.
Google Thinks for Small Business Owners
Before we get into how to build your online foundation, consider these numbers as published by Google Think earlier today:
60% of Canadians used search to see "what is open or closed near me" in April.
In late March, global search volume for curbside pickup grew 70% in one week (e.g., 'curbside pickup near me', 'what is curbside pickup').
According to Ipsos research between April 16-19, over 25% of consumers said they tried a new brand or product due to unavailability of their regular brand.
What does this tell us? People are looking for businesses like yours and you need to be prepared to intercept that search, particularly on a local level. But how?
Three Ways Small Business Owners Can Use This Pandemic To Build An Online Foundation
1. Ensure your listings are claimed and consistent – and then optimized
The first thing you can do – and likely the least expensive – is to go to key directories, including Google My Business, and claim your location. Once they're claimed, spend time on Google My Business specifically to optimize this listing as their directory appears on the search engine that accounts for over 70% of all Canadian searches. As Google My Business now acts as a social network too, we recommend regularly updating your listing with content. Feeding content directly into Google My Business ensures that Google understands who you are, what you do and who you help – and you don't have to wait from their crawlers to come to your website, as you can feed content directly within their engine. There are three areas where you can concentrate to optimize this listing:
Google Posts + Photos: Update your listing with content and photos twice a week. Highlight your products, specials, environment and then take advantage of the text areas to describe what you're showing in as much detail as possible. The more detail, the more meat you provide to Google to associate to your listing and the more likely your business will be presented.
Questions & Answers: Google helps people ask businesses questions via their listing that the business owner can go and answer. But did you know that you can also ask the questions? This allows you to create an entire FAQ right into Google. Again, this helps you put keywords right into Google and get your listing discovered.
Review Solicitation: Businesses that do not have a 4-star rating or higher lose sales as people seek the opinion of others before deciding on who to work with. Ask your best customers to review your business to gain social currency with those who discover your listing.
When you claim your local listings and optimize them in this way, you'll end up with more views of your listing, which leads to more foot traffic to your location and online traffic to your website. In a post-lockdown retail space, you'll want to increase both in any way possible.
2. Increase your online presence through social media
Keeping your customers informed means being on the networks where they're highly present. This could mean Google, of course, but also Facebook, Instagram, LinkedIn, Pinterest or elsewhere. While each of these platforms may require unique approaches, it doesn't necessarily mean that you need to double up your content efforts. The same pictures and posts you use on Google can also be posted to these other networks. Sure, go ahead and change up the copy or play up to the individual network's strength, but by all means use the media you're using. When you post to Instagram, put all relevant hashtags. Live content works really well on Facebook. Videos on LinkedIn. You get the gist.
Evaluate your abilities and comfort zone and choose the networks where your best customers are that also play to your strengths. That's where the win is. Hitting these channels will help you increase awareness of your business and also allow others to magnify your content through the built-in sharing tools within each of the networks. The more shares, likes and comments you get, the more people your message will reach. Just develop compelling content or great specials or anything to help your business get noticed and watch your word-of-mouth grow.
3. Push forward with an e-commerce platform
When this lockdown started and retailers were forced to close, our partner at Red Dream Studios helped one of their clients get up and running with an e-commerce platform within that first weekend. First there was a soft launch for this clothing retailer promoted through the store's email list, and over time more products were added. The online store may have saved this retailer's business, generating revenue for the business when the store itself otherwise would've been empty.
Getting set up with an online store doesn't have be expensive. Nor does it have to be complicated. If you have an existing clientele that you can easily communicate with, offering them a new way to buy from you could be all they need to spend money. "Not able to leave the house? Don't! Buy my goods online." And the easier you make order fulfillment, the easier it will be for clients to sing your praises and spread word of mouth about your extraordinary goods and services.
Don't just survive, thrive
Remember, folks. This pandemic will not last forever. What may last a long time, though, is how people behave once the lockdowns are lifted. How quickly will Canadians feel comfortable crowding into shopping spaces? It may take a good long while. Use these tips to help you prepare and survive. Start with the easy and inexpensive and move on to the more involved investments of time and money. Who knows, it just may be the answer to help you not only survive this lockdown, but also thrive once restrictions are lifted.
Looking for more tips on how to weather the storm? Read our other pandemic-related content:
Photo by Mike Petrucci on Unsplash.