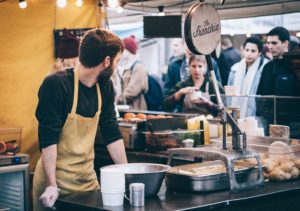 It's always smart to focus on SEO when it comes to promoting your restaurant online. However, this can be done in many ways, with on-site SEO only one of several options.
What's truly important, though, is what searchers are finding when you come up in their results. What if you come up first but the searcher is able to find information related to your competitors that the search engines don't offer about your business? For example, what if their menu is syndicated across search engines and review sites and yours isn't? It would stand to reason that the consumer is going to click on the business that gives the most information first, even more so if the menu is present.
Did you know that 86% of people view a menu online before dining out and that 50% of local searches lead to a visit within a day? With this in mind, look at just how important it becomes to ensure that your listing is optimized with proper business information and your menu. Because it's most important for people to see what you're serving, where you're located, if you're open, and if they can easily make a reservation.
Working with 10|20 Marketing to claim your business listings, provide your business information and post your menus to key online networks actually improves your SEO. Search engines like Google and Yahoo have algorithms to determine which businesses show up in search results. One of the things the rankings are based on is "user interaction". By adding your menus into all these listings more people will be clicking and viewing them and those businesses organically rise in the search rankings.
This makes for a powerful one-two punch. Your menu attracts diners and the business information that goes with it gets them to your restaurant. Allow us to help you ensure that your listings are updated with your menu and proper business details so you don't lose this powerful opportunity to expose your restaurant to new diners in your local area.