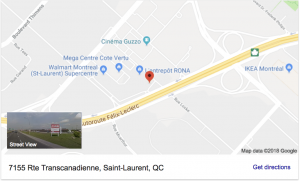 We've recently learned an important lesson about claiming your business location online, thanks to the collaboration of one of our clients. As a result, we'd like to ask you this important question: Have you searched for your business' address recently? Here's why we're asking.
After working with the business owner to claim his store's location on Google My Business and Google Maps—along with other directories including Bing, Facebook, FourSquare, Yelp and Apple Maps—the client's location was properly placed and pinned across these networks. Leading with his store's name, we claimed, placed and pinned his store on all of these online networks.
Almost immediately, we noticed that his listing was performing well. In fact, amazingly well. His Google My Business metrics exploded from the minute we took control of his listings. His views have increased and held steady every month, to the tune of 190% growth from the first month to the most recent. His total actions, which add together clicks of their phone number, directions and website buttons from their Google Listing, have increased by 202%.
Like any good business, though, his marketing presence didn't end there. Because of the nature of his business—he's a retailer with time sensitive promotions and always-changing inventory—he also advertised in local newspapers. And at the bottom of every ad, he wisely put the address of his store.
That's when he started to get phone calls. The problem? When potential shoppers would search for the address of his location, the pin for that search was misplaced on Google Maps and was leading his customers to another store. In other words, if you searched for the name of his store, you'd be brought to the right location. But if you searched for the address of his location, you'd be lead elsewhere. And he had concrete evidence that his customers were being misled, leading to lost visits and sales.
"My customers would search for our location on Google Maps and were brought to another area on the opposite side of our premises," said our client, who asked for his name not to be published. "This was frustrating and confusing for all concerned. I had numerous clients tell me that they circled around until they figured out on their own how to get to us, or called us."
When he brought this to our attention, we immediately jumped into action, contacting Google directly and requesting that they match the pin placement for the search of his address to the one we claimed for the name of their business. It took some time—exactly a month—to go from request to successful pin move. The request was actually escalated from the Google My Business (GMB) team to the Google Maps team to reflect the importance of the problem.
So, now, when our client buys advertising in print publications, he can do so with confidence, knowing that those who want to come to his store to shop will find it.
Within a month or two, we should see the impact on the GMB metrics for this listing, likely resulting in more views, as well as more calls, website visits and in-store traffic. We'll check back in on this story and let you all know.
In the meanwhile, we suggest you conduct a search of your address and see if it matches up with your listing. If not, we'd be happy to help you set things straight—and help shoppers head straight to your front door.