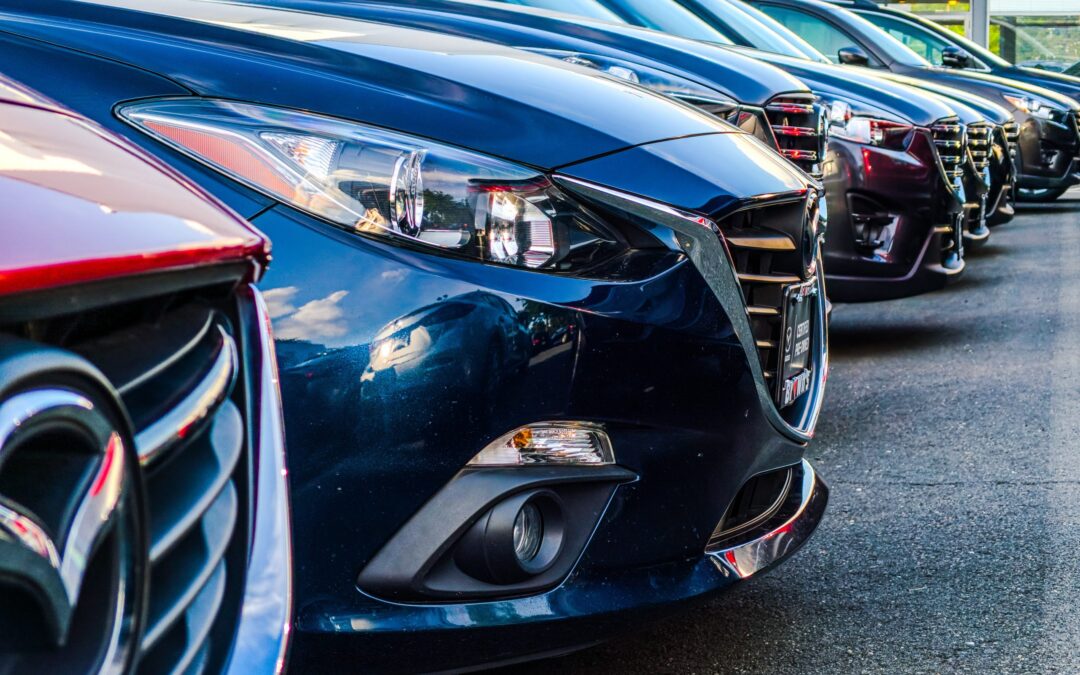 If you're looking for a way to get more foot traffic into your car dealership, look no further than Google My Business. Google My Business is a powerful tool that can help raise awareness, drive website visitors and ultimately increase foot traffic to your car dealership. The goal? To help you find new leads and increase sales.
What is Google My Business?

Not to be confused with Google+, Google My Business is one of several listing sites – and probably the internet's most important. A listing site is a directory where your business can appear. When the listing is correctly set up and managed, the people who actively search for a car dealership near them will be able to quickly find your business. A proper set up in Google My Business makes it easier for potential buyers to discover you and:
call your car dealership
get directions
click through to your website to browse the inventory
or share your location with others.
Google My Business is often the first point of contact people have with your business. This makes the platform even more important than your website in some ways. Why? Because Google My Business can become an online hub for your business location. The platform will feature all of your pertinent business information, reviews, posts and updates, events, offers, products and photos.
Also, when you take advantage of all that Google My Business has to offer, Google will understand your car dealership more and be able to point even more qualified shoppers your way.
How Can Google My Business Help My Car Dealership?

No matter how established – or new! – your dealership and its online presence is, there is an opportunity to increase your visibility and the number of interactions potential customers take with your dealership.
Still unsure of how important it is to have your dealership listed on Google My Business? The eight key metrics we track will indicate improved awareness and increased interactions. The metrics we track will show numbers steadily increasing when your Google My Business listing is active and optimized. They are:
Total Views:Total number of times your Google My Business (GMB) listing is presented in a given month.
Total Actions:Total number of times people clicked through to call, map your dealership's address, or visit your website from your GMB listing.
Action Rate:Total actions/total views. The action rate shows the percentage of people who acted on your business information to learn more about your dealership (for example, called your location).
Map Views: The number of times your local listing appeared in the Google maps results following a query.
Search Views:The number of times your local listing appeared in search results following a query.
Calls:The number of calls made to your dealership initiated from your local listing on desktop or mobile.
Directions:The number of times someone mapped your address from your local listing on desktop or mobile.
Website Visits:The number of times someone visited your website after clicking from your listing on desktop or mobile.
Of these eight, the two most important metrics we track for our clients are views and total actions. We recently worked with a local dealership with three locations (and therefore separate listings for all three). One of these was brand new, opening just before working with us. Take a look at the trend report below for those two metrics after working with us to optimize the listing at this location (i.e., manage information, reviews, and post to the listing twice weekly):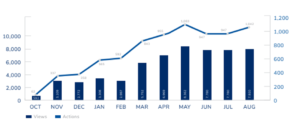 This car dealership had impressive, business-changing results with all three locations, not just their newest one. For one of the dealerships, our service helped improve views and actions by 88% and 61%, respectively, after ten months of working with us. Results like these represent a lot of new leads – and car sales!
What Happens If A Car Dealership Doesn't Optimize Their Google My Business Listing?

Every error in your dealership's information across the internet reduces your chances of appearing in results when potential customers search online.
Without having an active and optimized Google My Business listing, each day you miss out on:
Increased awareness of your business (eyes on your listing)
Additional awareness by appearing in Google Maps
Phone calls to your dealership
Website visits
Easy directions to your dealership for potential customers right from their current location (key for attracting those who are spending an afternoon browsing dealerships)
In addition, Google My Business helps validate your business, which has an impact on SEO, and makes your dealership more 'findable' overall.
Remember the days when you needed a plumber, and you went right to the Yellow Pages Book under P for 'Plumber'? No plumber in town would intentionally not have their business listed there, and Google My Business is today's digital version of the Yellow Pages. You can't afford not to appear there when people are searching for your business.
Not using or not optimizing your Google My Business listing is a missed opportunity.
What You Get For Your Car Dealership When You Work With 10|20 Marketing

When you work with us, you get more than just a quick review to ensure your listing is set-up correctly. We will:
Claim business listings online
Manage how locations appear across the internet
Fix errors in listings that are costing businesses sales
List locations on new engines, review sites, social networks and maps
Improve search engine optimization
Monitor customer reviews and ratings
Drive more customers to your client's locations
If you have questions about how your car dealership can start taking advantage of a Google My Business listing right away, and start seeing more foot traffic on site, send us a message and let's chat. Want more info on the process and results you can expect as a car dealership? Write us and we'll happily send you our case study.