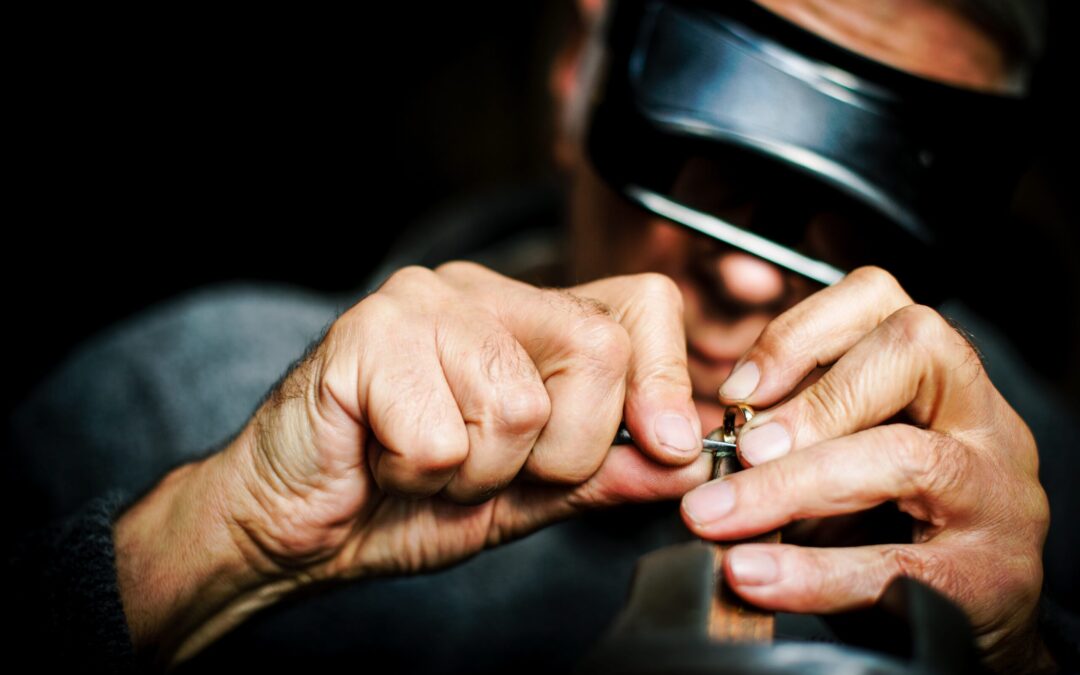 One of our clients is a relatively new custom jewellery wholesaler with a family tradition of over 70 years behind it. They were referred to 10|20 Marketing by another one of our clients – they wanted help with organizing and optimizing their existing Google My Business listing and getting on other online directories. Though the reputation of the owners was well known in the community, the new business name and location were not.
The following is a Local Listing Case Study about a jewellery business that shows how adding posts and online reviews to your Google My Business listing can have a significant impact on the number of times Google presents your listing in search results. With more views comes more website visits and other purchase intent-based actions.  
BACKGROUND
Maison Goldberg Bijouterie has worked with 10|20 Marketing since November 2018. When we first met, the client explained that their website was changing, notably with the addition of an e-commerce platform. Also, they were starting to establish a following on Instagram and Facebook, but relying solely on organic growth.
After meeting with us, the client decided to move forward with three of our services:
SERVICES DESCRIPTIONS
Our local listings management offer helps clients own, organize and optimize their listing on Google My Business and the web's other most relevant directories, such as Facebook, Yelp, Bing, Foursquare and Apple Maps. We make sure that all the information in these listings is consistent from one directory to the next by monitoring them for changes from directory users. The more consistency you build across the web, the more Google rewards your business with views of your listing.
Review marketing helps clients monitor their online reviews and respond to them from a single platform. Also, our clients can send email or SMS invitations to their clients, asking them for Google reviews. The best reviews can then act as marketing content, sent automatically from our platform to the client's Facebook or Twitter account as a post or tweet. Google appreciates these authentic reviews and will again reward businesses with more views as new reviews come in. Gaining new positive reviews also helps businesses solidify their credibility with people searching for what they offer.
To understand Google My Business posts, you'll have to think of a Google My Business listing as a social media channel. As part of your listing, you're able to add business updates or product descriptions with photos and links. Google My Business posts are powerful because they allow you to add more written content to your listing. The more content, the more terms you feed into Google to index for your listing. For Maison Goldberg Bijouterie, we post content at least twice a week.
RESULTS
Maison Goldberg Bijouterie's goal is to build awareness of their business, establish credibility and build online sales. After accessing data from the Google My Business platform, we have a year's worth of data from before the client started working with us and five months of data since being placed on our Local Listings Management and Review Marketing platforms.
Here are the monthly averages for views and action clicks, as well as the total number of reviews before subscribing to our service and after:
| | | | | |
| --- | --- | --- | --- | --- |
| | Before | After | Difference | % Increase |
| GMB Views Per Month | 871 | 1,917 | +1,047 | +120% |
| GMB Actions Per Month | 26 | 65 | +39 | +150% |
| GMB Reviews | 2 | 17 | +15 | +750% |
While these numbers are impressive to us, our client is even happier.
"We're thrilled with the way we've been able to increase the visibility of our business with the help of 10|20 Marketing," says Keely Goldberg, owner of Maison Goldberg Bijouterie. "More specifically, though, we've listened to their advice on how to approach building a deeper bank of reviews on our Google listing and we've received authentic reviews from our clients about their experience working with us – all in a very short time. This helps us establish immediate credibility with people who are looking for our services and helps us create more business."
The proof is in the charts as well. Have a look at the 18 months of data we've collected.

We believe that this is the beginning of the first new plateau, as we discussed in our optometry case study. Also, by helping the client generate reviews, they've been able to maintain a stellar 4.9 average rating on Google. This is a reflection of their excellent personalized service and their ability to drive the right reviewers to their profile. While we can't help with the former, we do help with the latter!
MOVING FORWARD
We monitor metrics on an ongoing basis to help our clients understand the impact of our optimizations on their Google My Business listing. In the coming months, we will continue to collect and trend the client's metrics, digging out insights and suggestions to continue to improve their results. Of course, we'll work with the client to generate more reviews, post new content to their Google My Business listing and continue to build consistency with their listings.
We'll leave the last word to our client. "10|20 Marketing has helped us understand and utilize all the tools that Google has to offer," says Keely.  "Our business wouldn't be where it is today without their help."
Thank you, Keely! We'll update this case study in the fall to see where these metrics stand.
10|20 Marketing Case Studies
We invite you to read our other case studies to learn how our services have brought tangible value to other clients in different industries.
Get educated on local!
Take advantage of our advice, tips and handy how-to content to help your business get noticed online. Visit our blog today to see what's new!